Archive for January 25th, 2011
At a press briefing this weekend, the Administration announced the appointment of Jeffrey Staffmelt as head of the new President's Council on Jobs.  Mr. Staffmelt will organize a special ad hoc team to evaluate the current pathetic job situation, understand its root causes, and develop a crisp Power Point presentation on path forward.  It is expected that the team will recommend additional subcommittees, sub-subcommittees, maybe even getting down to the tertiary level of sub-committees before it actually does anything tangible.
Reporters were curious to know why Mr. Staffmelt, CEO of Geritol Electric, a company which has been criticized for plant closures, massive staff reductions, and moving jobs to 3rd world countries, was considered the "best" candidate for the job.  In particular, some wondered if Mr. Staffmelt, who is affectionately known as "Julio" around the office for all the jobs he's shipped to Mexico, has the right mindset to create jobs, rather than vaporize them.
"We think he's the right guy," the Administration spokesman retorted.  "He's writing a book on Lessons Learned the Hard Way, which encapsulates the mistakes he has made that have literally shut down entire towns as their factories padlocked the gates.  He has actually visited some of those towns to see the devastation.  Someone said that he had a tear in his eye when he visited Balloogaville three weeks ago.  But another said that he thought he just got finished blowing his nose."
The spokesman went on to say that the focus will be on jobs where our country has a distinct competitive advantage.  "…And that doesn't mean just flipping burgers at McDonalds.  No.  There are many other opportunities out there:  Burger King, Arbys, Hardees, and…well, thousands of chicken franchises.  You know as well as I that these places need good help…you end up waiting in line 10 minutes to get a lousy chocolate shake, for crying out loud.  We're looking to Mr. Staffmelt to establish some tough new industry standards on waiting lines as one of his first priorities.  That will get more people on payrolls, and off unemployment compensation."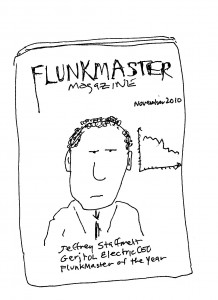 It was noted that Mr. Staffmelt has won a number of awards, and last year bought a trophy case that he placed in his vacation cottage office.  His most recent award came from Flunkmaster Magazine for having the highest differential between his personal compensation and his company's performance, among all CEO's.  In the article, Staffmelt credited his best friend and personal agent for developing and negotiating a complex pay scheme algorithm for him, which kept his package skyrocketing in spite of cratering results.  "Guy's a genious," Staffmelt was quoted.  "True genious.  I love the guy.  I'd marry him if he weren't so ugly."
A spokesman for Staffmelt read a statement that Jeffrey was looking forward to his new post.  The appointment was timely, especially given the rumor that he might be s#!t-canned from his current CEO position.  Geritol Electric stockholders have been vocally upset about the company's dismal performance, losing 50% of its value over the past four years, and running a mixed bag of tangled, conglomerated operations that Business Funk magazine called "the most inefficient business model since the days of Textron."  When one reporter referred to that article and asked who the hell Textron was, the spokesman said, "Beats me.  Never heard of them."
Disclaimer:  all stories in Bizarreville are fiction, even the ones you think you saw before in the real world.