Archive for March 9th, 2010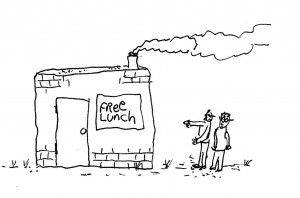 Disproving another adage, Bizarreville is now offering a Free Lunch from 12 noon to 1:00 pm Monday through Friday.  It is being done with no adverse impact to current taxpayers, and no strings attached.  It is totally free, and open to anyone and everyone who wants or needs a lunch.
Free Lunch will be available at the former home of Shanky's Bar-B-Q, the originators of the baby back donkey ribs and the cabbage-flavored barbeque sauce.  Shanky's, as most know, went belly-up after the alleged food poisoning epidemic and associated lawsuits.
One word of caution for the lunch freeloaders who might be tempted to take advantage of this enticing opportunity.  The bill of fare consists of a variety of pre-digested, processed, and freshly scooped dog food…somewhat watery in texture and pungent to the nose.  It is not particularly appetizing, but it is free, and free in basically unlimited quantities.  Free Lunch also solves a perplexing environmental problem…but that is the subject of another story.
Free Lunch is brought to you by your friends on the Liberal Left, who believe that quantity is more important than quality, and that everyone has an inalienable right to the pursuit of food.  Free Lunch will be funded by the future, not-yet-conceived grandchildren of Bizarreville taxpayers.  Thank you letters have been written, and will be sent/opened when the babies are born and become old enough to read.  When the kids reach 21 years of age, they will receive the invoice.