Archive for February 14th, 2010
The Bizarreville TV Network is proud to be piloting a new TV series next week, called The Grumpler.  Modeled after the successful "The Bachelor" program, the new series will feature the grumpiest liberal congressman.  Casting will find one who is most upset about not not getting their statist/socialist government-control agenda passed…one who is genuinely ornery and about ready to go postal over the farting around in the Obamacare passage or other feet-dragging in government takeover of the economy.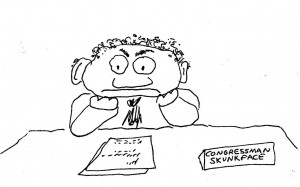 The TV series will then bring 25 hookers onto the show to find new, creative ways to cheer him up.  He will then start narrowing down the field, week by week.  But the secret to the show is that he will actually be looking for the contestant who aggravates him the most in her feeble attempt to change his surly mood.  Any pro who makes him smile or laugh, as unlikely as that seems, would most likely be ushered onto the nearest limo for her trip home.
Elmer Smudd, the Executive Producer, figures the hookers will catch on to the "secret" pretty quickly, and may soon do all they can do to piss him off.  Smudd thinks this transition will be hilarious to their target audience, comprised of men and women who think 99% of all TV programming is pure crap (pretty big target market as it turns out).  Obscenities are likely to be flying, but will all be bleeped out so as not to offend the kids who have never heard that kind of language before.
Rather than a traditional rose ceremony, the lib congressman will cut off the top of the rose and give the thorny stem to the lucky girls who will continue, and move on to next week's challenge.  He'll keep the top for himself.
Each week's show will feature new intriguing venues that are disgusting, revolting, reprehensible in their own right to help create the right mood.  Boring football games on cold rainy days, PBS pledge drive studios, Chuck E. Cheese, Mount Trashmore landfills, economic debriefing rooms, and book readings at book fairs will be among the chosen destinations.
The Winner will get to become the congressman's Top Aide until the congressman gets thrown out of office, either by election, by sheer incompetence, or by impeachment.  The losing hookers will not leave empty handed.  Each will be given a new wardrobe designed by Streetwise Sleaze of Hollywood, the leader in upscale trashiness, and a one year's supply of Tootsie Pops.
Smudd thinks the show will be a hit.  He looks forward to casting The Grumplette for next season's shows.