Archive for February 7th, 2010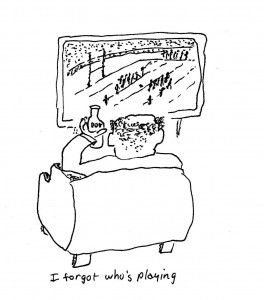 The mayor of Bizarreville wanted to declare Super Bowl Monday a Bizarreville holiday.  His reasoning was simple:  the game is being played later and later every year, with parties now ending after midnight, making it very tough for him (and others) to make it into work the next day…especially after downing a 6-pack of Dogfish Head during the pre-game and scarfing another sixer during the game itself.  The mayor thought his proposal would be a slam dunk for approval, particularly this year with all the interest around the two competing teams.
But, unfortunately, he did not realize that most of the Council members were not football fans.  In fact they were un-fans.  They did not even tune in for the cute, creative Super Bowl commercials.  No, they preferred to watch the 12 billionth rerun of Mr. Smith Goes to Washington, followed by the exciting reality tales of Ice Road Truckers.  They reminded the mayor that February is not a good month for holidays…they had already lost one when they combined Lincoln and Washington's birthdays.  And the only way it could be done would be to eliminate one other holiday sometime during the year.
Of course, when the mayor suggested eliminating the Friday after Thanksgiving, he was promptly pummeled with obscenities and sneers by the 5am shopping faction of the Council.  They threatened to march down to every retailer in Bizarreville and tell them all that the mayor was trying to ruin the most important retail sales day of the year.  They would call him anti-business, anti-retailer, and anti-turkey.
The mayor was up for election in November, and knew that he could not recover from being labeled anti-turkey.  He gave up the fight, and came to terms that he would gut-out a Super Bowl Monday hangover.