Archive for February 4th, 2010
The mayor of Bizarreville has volunteered to move the Khalid Sheikh Mohammed trial to Bizarreville.  This comes on the heels of hearing that New York City did not want any part in having the trial in their city for cost and safety reasons.  KSM will be tried in Judge John Axmaniac's court, who has guaranteed a speedy, no-nonsense process, total openness, and a fair outcome.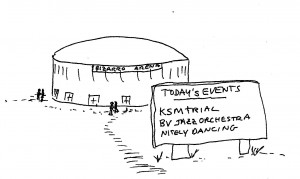 The judge will actually hold court at the 12,000 seat Bizarro Arena basketball stadium.  The public will be welcome,and will be charged 10 bucks a head for a daily ticket, but each day will include a concert by the Bizarreville Jazz Orchestra immediately following trial proceedings.  Dancing will be available.
Normal concessions will be served, including dogs, beer, cheesy nachos, and other sports-type refreshments.  To simplify matters, all items will be priced at $10 each, correct bills are required.  The concession company will also serve fresh tomatoes that can be optionally thrown at KSM and/or his lawyers if fans don't like what they see or hear during testimony.  Tomatoes will also be priced at $10 each, but fans can get 3 for $20 or a "frequent thrower" package of 10 for $50.
Film will be taken of the proceedings, and will later be turned into a feature length comedy movie, featuring Bill Murray as KSM and Dennis Miller as his hapless lawyer.  The Director will intermix real trial footage with comedy hijinx to make a film the whole family will enjoy.  Hilarity should reach a climactic peak when they all start throwing food at each other, a newly-trained apprentice underwear bomber gets knocked-out by a flying bench,  while the Judge keeps pounding his gavel until the head flies off and hits the bailiff in his private parts.
On a more serious note, the mayor understands the seriousness of the threat by Islamic terrorists during the trial, so he will have extra security people armed with bazookas at strategic spots near the arena.  Citizens in vans and SUVs will be warned to stay clear of the stadium's entrances, so that they don't get inadvertantly bazooka'ed.
As mentioned earlier, the Judge promises a speedy trial process. Much of the prosecution evidence is considered Top Secret, and will just be accepted as factual material without disclosure of details.  Defense has already agreed to not develop lame theories of the case.  And, in a surprising move, the Defense has agreed that during cross exam, prosecution witnesses can answer with a variation on the 5th Amendment, which they affectionately call the "Up yours, you friggin creeps" response to certain questions.
All in all, Bizarreville authorities think this could be a big money maker and are excited to get started ASAP.
Disclaimer:  all stories in Bizarreville are fiction, even the ones that sound real.