Archive for February, 2010
The administration announced today that Keith Uberman, famous sports anchor-turned-leftomaniac, has been appointed to the new position of Propoganda Ministry Czar.  He will be able to keep his current position as angry commentator and socialist bureau chief at MS-NBC.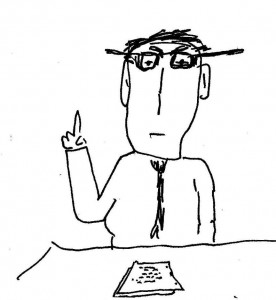 The administration spokesman said that the President has been a big fan of Uberman's snappy, passionate, over-the-top blathermanship of the extreme liberal agenda.  They see a role for Uberman in creating a series of films, television specials, commercials, and other media delights that will better persuade the naive public to their way of thinking, the proper way of thinking.
"We have tried and tried and tried to explain to citizens the wonderful benefits of socializing medicine, nationalizing industry, sharing wealth, and taxing the piss out of anyone who earns a decent salary…but, I guess, the citizens are just too darn thick-skulled to understand it," the spokesman said.  "But we blame ourselves for not delivering a clearer message that can be understood by people who are, quite frankly, less intelligently-endowed than us.  That's where Uberman comes in.  He'll take pages out of the best propogandists in world history, and apply it to the issues of today.  And to work with him, we will choose from a long list of liberal Hollywood-types to score the background music to tug those emotional strings of the viewers."
MS-NBC did not offer much comment except to say that occasional loss of Uberman's service is not expected to have much impact on audience share.  "We may just put a cardboard cut-out of his upper body in his seat, and have a mic'ed impersonator offstage delivering his monologue commentaries.  We've tested that concept with focus groups of typical MS-NBC viewers, and honestly they can't even tell the difference.  We may try to add that Clutch Cargo lip movement special effect to help make it look even more real."
A spokesman for Conservatives was asked to comment, and said he remembered how funny Uberman was as a sports anchor on ESPN.  When asked about his shift over to hard-left commentary, he said that they all thought he's just been kidding… just being a deadpan sarcastic wisenheimer all this time.  "You mean he's actually being serious with all that liberal drivvel??   Ha, ha, ha, ha…could have fooled me!"
Disclaimer:  all stories in Bizarreville are fiction, even the ones that seem so real.
Continuing coverage of the President's Health care summit with 5th graders.  Next up for the class is Matt Burpmore:
Q4. How can we make the Health insurance companies themselves more efficient so that insurance costs can come down for the people?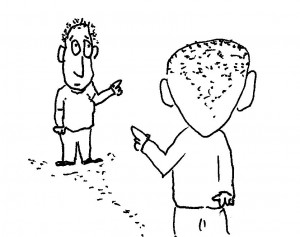 Matt:  Why are the health insurance companies inefficient now?
President:  Part of the problem, Matt, is that there's not enough competition among the health insurance companies.  When there is less competition, companies are not quite driven to reduce costs…so costs start going up.
Matt:  I see.  Thank goodness there's not just one company running all insurance…imagine how costs would go out of control if that ever happened!  But is there a way to get more competition going?
President:  One problem is that Health insurance companies can't compete from one state to another, so that limits how much competition there can be.
Matt:  Why don't you just let them go ahead and compete in other states?  Is there some reason that wouldn't be a good idea?
President:  Well, it's complicated.  It's like if your mom told you that you can only trade marbles with the kids on your street, but not the kids on the next street…because we don't really know them very well, and they might try to take advantage of you.
Matt:  I don't care if they're on the next street.  If some kid there has a marble I like, then I'm going to trade for it.  Wouldn't you?
President:  Yes, probably.  But there is still a problem with all these insurance companies just making too much money and getting greedy.
Matt:  Yeah, I know what you mean.  Last summer, my friend Johnnie Plunger set up a lemonade stand down the street and was charging 5 bucks for a glass of watered-down lemonade.  That was ridiculous.  He was being greedy, and I went over and told him he shouldn't be so greedy.  He told me to…well, I better not say what he told me I could do…but I'm not sure if it's even technically possible.  Anyway, I set up my own lemonade stand and charged 50 cents.  I had a line of customers a block long.  Twelve nano-seconds later, he dropped his price to 50 cents.
President:  Maybe there should be a government rule on the maximum price kids can charge for lemonade?  Say, no higher than a buck a glass?
Matt:  No, sir, I think that would create more confusion, because kids would just keep varying the size of the glass.  I think if you just left us kids to work it out, we'd work it out, trust me.
President:  Perhaps you're right.  Well, kids, thank you for all your insights on health care issues.  If all of us in Washington were as smart as you, we could solve a lot more problems quicker.  But that would just put all the pundits out of a job.  Have a great day.
Disclaimer:  all stories in Bizarreville are fiction.
Continuing coverage of the President's health care summit with a bunch of very smart 5th graders.  Laura Laxatiff responds for the class on question 3.
Q3.  Some insurance companies won't cover what they call "pre-existing conditions".  That means if someone has a medical problem before the company starts insuring them, the company won't pay the bill.  What can we do about that?
Laura:  Well, if you ever had a cold, does that mean they would never cover you for colds?  Or if you had an earache before?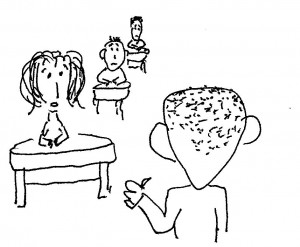 President:  I'm not sure, but I think it just applies to things that people have wrong with them.
Laura:  Just about every old person I know has something wrong with them.  Cindy's mom has sore knees, Jacob's dad takes 6 pills a day for something, Chelsea's dad is always complaining about his sore back.
President:  If they leave one insurance company and go to another, they might not be covered for those old knees and bad back problems.
Laura:  That's not very fair.  They should definitely be covered for whatever problem they have.  Why wouldn't an insurance company cover them?
President:  The insurance companies are worried that people will stop paying for insurance…but then when something goes wrong, they'll hurry up and sign up for insurance.
Laura:  Seems kind of silly to me.  Do you think that would really happen very often?
President:  No.  Probably once or twice in a blue moon.
Laura:  Then why are they so worried about it if it would hardly ever happen very much?
President:  It's complicated.  I personally think they're just trying to get out of paying for different things.
Laura:  Yeah, I know.  My friend Marty Mopeburger is always tring to get out of work his mom tells him to do.  Even easy stuff like taking out the garbage.  He'll do all kinds of stuff to get out of taking out the garbage, when it would be so much easier to just do it and get it over with.  He's a pretty weird kid.
President:  So you think we should tell them to just cover pre-existing conditions?
Laura:  Yeah.  Some people are sick, some aren't.  If you try to get too picky on stuff, it will drive you nuts.  They should all just say:  "Come on, join us.  We'll take care of you."  Stop trying to be so weird about little meaningless stuff.
President:  How should we go about tell them to do it?
Laura:  I'd say just tell them to do it and that's final.  That's what my mom tells me when she wants me to do something.  If she's allowed to do it, I guess you're allowed to do it, too.
 (to be continued)
Disclaimer:  all stories in Bizarreville are fiction.
Continuing coverage from the Health Care Summit between the President and a group of very smart 5th graders.  The next respondent for the class was Rudy Dinglewonk, who took on question two:
Q2.  How can we get insurance for the 30 million people who do not have health insurance?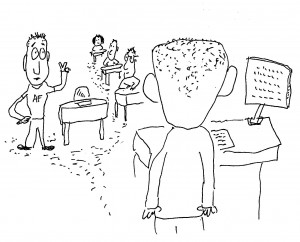 Rudy:  Well, sir, why exactly don't these people have insurance?  All the families I know on my block have insurance.  Jimmy Shmellboink had to go to the doctor last week when he sprained his ankle playing Curling on the ice.  His mom told my mom that they had insurance.  If all those millions of people want insurance, why don't they just go get it?
President:  Well, Rudy, some people are poor and can't afford to buy insurance.
Rudy:  Why can't we help the poor people and give them insurance?
President:  We do that already with a program called Medicaid.  It's a government-run program that helps poor people get health care.
Rudy:  So then if you have Medicaid, why don't those people just use that?
President:  Well, some people make too much money to be on Medicaid.
Rudy:  If they make too much money, then why don't they just go buy insurance?
President:  They say they can't afford it, with all the other expenses and bills that they have to pay for.
Rudy:  Like what kind of expenses and bills?  Is it food, or is it other stuff?
President:  No, they can afford food and other basic necessities.  But with other expenses like cable TV bills, cigarettes, Wii machines, soccer uniforms, Nike Air Jordan shoes, dinners out at Chuck E. Cheese, birthday parties and such…puts a lot of strain on their budgets.  They say that they don't have any extra money for health insurance.
Rudy:  Couldn't you just give them some kind of Discount Coupon to help them, so they could go get insurance?
President:  Well, it's complicated.  We could expand Medicaid, but unfortunately that's a pretty inefficient, cumbersome, disorganized, bureaucratic nightmare program already.  Expanding it might make it even more screwed up.
Rudy:  Why don't you just cancel it if it's not that good…and go with something that is good?  I know.  I used to buy SuperSlump comics last year, but they started getting real boring, and now I buy AstroClod.  It's a lot better, and pretty funny, too.
President:  Hey maybe we need an AstroClod makeover in our Medicaid program, Rudy.
Rudy:  I'd say go with something that works.  Don't try to fix something that's totally broken.  My little brother tried to fix his bike after it got run over by a pickup truck.  Man, that was a waste of effort.  He kept falling down and busting his head.  Dad finally bought him a new bike for Christmas and we threw that old piece of junk in the garbage can.
President:  Maybe your "Discount Coupon" idea could work.  I suppose we could just apply it to our existing Health insurance companies, and throw Medicaid in the garbage with your brother's bike.  The insurance companies are not perfect, but you know, overall they work pretty well.
Rudy:  Yeah.  My bike's not perfect, but I like it.  I wouldn't want to throw it away.
President:  Let's move on to question three…
(to be continued)
Disclaimer:  all stories in Bizarreville are fiction.
The President called a Health Care Summit conference at the White House with a select panel of 5th graders who had been contestants on the TV show "Are you smarter than a 5th grader?"  He did this after coming to the conclusion/realization that a handful of 5th graders were smarter than the entire body of Congress put together, could probably cut through the mumbo jumbo, and develop workable solutions to the health care issue.  The President asked 4 questions for the 5th Graders to deal with.  Little 5th grader Billy Smith responded to the President on the first question: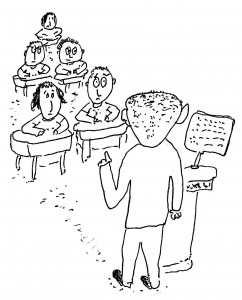 Q1. How can we cut the cost of Health Care?
Billy:  Mr. President, well, what's causing costs to go up so much, sir?
President:  Doctors are charging more and more for their services and procedures to help people get better, Billy.
Billy:  Well, why are they charging more and more?
President:  Because their costs keep going up.
Billy:  Why are their costs going up?
President:  Doctors say because Malpractice Insurance cost is rising so fast.
Billy:  What is Mel Crack Diss?
President:  Malpractice, Billy, is when people sue doctors because they think the doctor did something wrong when he was treating them.  They sue them for millions of dollars.  And they get the money because everyone figures it's just the insurance company that will be paying it.
Billy:  My doctor is a pretty smart man, and a real nice guy.  He's got 3 kids.  I don't think he would do anything wrong.
President:  You're right, Billy.  Almost all doctors are very good doctors and do the right thing.  It's extremely rare when a doctor is truly negligent.  But still, people keep suing and suing and getting lots of money for it, regardless if the doctor really did something wrong.
Billy:  That doesn't seem too fair.  If a doctor is trying hard and doing his best, he shouldn't be punished for that.  I know when I get punished for something like leaving the seat up, and I didn't do it, I get mad.
President:  Well, the doctor doesn't really get punished.  It's the insurance company that pays the tab.
Billy:  But didn't you say that the insurance company just goes ahead and charges the doctor more money?
President:  Well, yes…
Billy:  Why can't we stop people from getting lots and lots of money when the doctor didn't do anything wrong in the first place?
President:  Well, it's complicated.  We don't want to stop people from being able to sue a doctor when he really did something that was grossly negligent.
Billy:  I thought you said that was extremely rare?
President:  Ummm, I did…..I did say that…uh…let's see.  Well, it's like this…you see, the lawyers…ummm…the lawyers find out about these cases by hanging around hospitals a lot.  Now the lawyers are very nice people too, you see….ummmm…I tell you what, let's move on to the next question.
(to be continued)
Disclaimer:  All stories in Bizarreville are fiction, even the ones you would swear are real.
Take a peek at the Simpli-tax series (on the right), if you haven't checked it in a while.  It's a nice story of CPA's trying desperately to hold on to their lifeline: the convoluted tax code. 
Either that or buy TALES OF OBAMALAND.  I think you'll like it.  And after all, you need a little humor to get through it all, right?
Wednesday
9:05 am:  Went through the metal detector at the WH.  Was told my boots were too filthy for the WH carpet. Had to go to the restroom to scrub them down.
9:25 am:  I said Hello to the Pork/Earmark Czar in the north hallway, but he just grunted back.  Guess if you're a "Czar" you don't have to talk to common people like me.  But now that I think of it, I do remember a little Russian history, and that was true of czars.
9:55 am:  Sprayed the Chief of Staff office.  He stayed on the phone at his desk, so I had to work around him.  I thought I heard a large rat near his closet.  But it turned out to be his Exec Assistant who was making a squeaky noise when he talked.  Man, that was an irritating sound.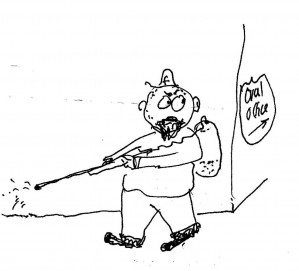 10:13 am:  Checked the mouse traps in the cafeteria.  All the cheese was gone, but the traps had not engaged.  I'll bet one of those punk interns grabbed the cheese yesterday as an afternoon snack.  Probably feels pretty clever that he did it without getting snapped…or maybe he did get snapped, and just reset it to avoid embarassment.
10:47 am:  Sprayed the johns.  All smelled pretty bad.  Who knows what these goofballs eat around here.  Maybe Mexican?  Probably get free meals, compliments of us taxpayers.  I'll bet they all get free chips and salsa delivered to their office whenever they want it.
11:18 am:  Unable to get into the main meeting room.  These guys just seem to sit in meetings all day.  Sit and talk, talk and sit.  That ain't work.  Then they leave the meeting to go to another meeting.  They call them briefings.  Does that mean they drop trou and sit around in their skivvys?  Why would they do that?  Seems kind of perverted to me.
12:07 pm:  Broke for lunch.  Ate my salami sandwich while these clowns down the hall are probably eating steak tar-tar.  Reminder:  need to throw out the rest of this loaf of bread.
1:00 pm:  Shot a few hoops at the WH basketball court…until some Secret Service guy told me to leave.  I told him I was just spraying in here.  He called me a liar, and started to call for backup.  So I just left.
2:13 pm:  Inadvertently bumped into some muckety muck in a freshly pressed designer suit while I was spraying the west corridor.  He accused me of getting "pestulant odor" on his suit, and he would have to have it dry cleaned.  I said I was sorry, and I didn't smell any "pestulant odor" on him.  He just said, "yeah, easy for you to say," and walked away.
3:00 pm:  Completed my rounds and started heading out.  You know, I could do any of these jobs here.  But things would be different if I was in charge.  First off there would no more meetings, period.  Then I would give the janitors and other service people a 20 percent raise, no make it 25.  I'd have the czars cleaning the toilets, and filling up my office humidor with fresh cigars every day.  Yeah, man, a lot different…..
Disclaimer:  all stories in Bizarreville are fiction.
Nancy Pelosi yesterday ordered all of her liberal colleagues to immediately pick up a copy of the new book, "Karl Marx Unleashed".  She said that it is high time we stop pissing around, nibbling away at important issues like auto industry nationalization, health care for the proletariate, and jail time for all capitalists.  "It is time for decisive, revolutionary-type action…that's why the public elected us, and that's what we are obliged to deliver…and deliver now before all the whackos on the Right have a chance to hose us down and extinguish the liberal flame within us."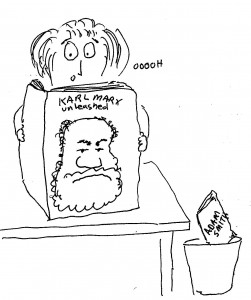 The new book, authored by Elmwood Skank, a professor of Political Science Mythology at Dweeb College, puts a brand new spin on old Karl's 19th Century ideas.  He points out that Marx was like an Industrial Age Nostradamus, predicting that the working class would get pissed at CEO salaries and bonuses, that capitalism would cause major boom/bust cycles that would devastate so many speculators, and that the New Orleans Saints would eventually win the Super Bowl.  Of course that last prediction requires the reader to take a few interpretive symbolic leaps to make the connection.
But his communist fundamentals, according to Skank, ring true today…including the concept of sharing the wealth, helping the lazy, replacing competition with kumbaya, and disincentivizing initiative that, oh so often, leads to greed.  He invokes the famous Rodney King quote, "why can't we just get along" to describe the societal problem with police brutalizing people just because they break a few laws here and there, threaten a few people, and terrorize the occasional neighborhood…or a dictator in Iran who just wants to be loved by the world communicty.  Karl Unleashed would get them all together and smoke a peace pipe…4 or 5 puffs and they would all get along just fine, thank you.
Nancy has become so inspired that she has gone to the library and picked up writings from Lenin, Engels, Trotsky, Mao, and Castro to really bone up on Marxist thought, and help her turn it into Action.  She has instructed her colleagues to develop a "Contract with Karl" set of 10 fresh new legislative bills to get this revolution into gear…high gear.  She has tried to not be too prescriptive, but hinted she would like to see things like food rationing, apartment-size equalization, and more public transportation to replace individual cars.
A Republican spokesman was asked to comment, but just shook his head and said "Wow".
Disclaimer:  all stories in Bizarreville are fiction, even the ones that sound like they could be real.
Last week, Limburger Waste Company announced plans to build a Mt. Trashmore type landfill at the old Skunksville Farms property.  Some citizens have complained that, if they do this, it will totally block the view of the famous "Bizarreville" sign, a beloved tourist attraction for visitors.  Leaders of the Tourism Bureau say that there is not much else to see or do in Bizarreville, so the sign "…is one of the few things we've got.  Plus, the landfill would stink."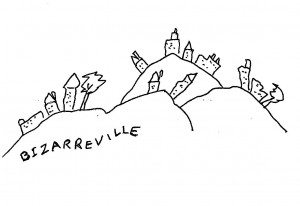 An ad hoc committee has formed to try and block the issuance of the land use permit that Limburger is trying to obtain.  The group is trying to attract rich millionaire movie star types to aid in their efforts.  They say that this is just the type of wheel-spinning goof-ball cause that would appeal to these prima donnas in between their red carpet doink-oramas. 
But they may ask the hoidy toidy set to also chip in some cash.  The committee would like to be able to buy the Skunksville land and turn it into a park.  A couple of the members even took the initiative to go buy a swingset, plop it down at Skunksville, and have their kids play on it as a pre-emptive photo op.  Unfortunately, they stuck the swingset on the side of a steep hill, and 2 of the kids flew off, tumbled down the hill, and whacked their heads pretty hard while the cameras were rolling.
Meanwhile, Limburger has stated that they will make beauty enhancements to the Mt. Trashmore after it fills up…grassy lands, trees, the whole bit.  In fact, they offered to relocate/transplant the Bizarreville sign to their new landfill mountain, squeezed right in between the methane recovery spigots…even add black-light spotlights so tourists can see the Bizarreville sign at night.
The Committee has not been convinced, and has pointed out that the seepage from the landfill would probably discolor the Bizarreville sign blocks, and ultimately dissolve them altogether.  They want to stop Limburger, and plan to fight to the bitter end.
Limburger has taken a practical approach to the matter.  They say that they might have to consider relocating the landfill to an alternative piece of property… right behind the Ad Hoc Committee chairman's home, if this "bitter end" deal doesn't work out.
The President had announced with great fanfare the birth of a new Budget deficit reduction commission…a blue ribbon committee charged with taking a close examination of the deficit and deciding what actions could be taken.
But there was a problem, which staffers inside the White house later described as a cluster F#&*.  The President had privately instructed his Deficit Czar to organize a toothless effort to study deficit reduction.  And naturally, the obedient-to-a-fault Czar started tracking-down and recruiting candidates with no teeth.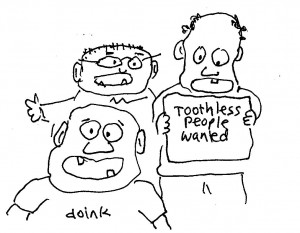 He had started with the National Hockey League, particularly with retired players who played in the era when men were men…no helmets, no mouthguards, proud of getting into bloodbaths on the ice and pulling the jersey over an opponent's head.  These guys proudly displayed their toothless displays as a badge of honor.  But, unfortunately, these fellows, a bit battered from too many slap-shot pucks to the noggin, said they were not interested unless they would hold the committee meetings on the ice.
Next they went to the Bizarreville Affordable Dentures office to do some recruiting in the lobby.  But a lot of these people were only about as smart as a congressman, so could not pass the basic intelligence test.  Plus, the Czar was not sure if people with false teeth truly qualified as "toothless", and he was just a bit too nervous to ask the President for clarification.
But finally the team managed to scrape together enough toothless wonders to have a meeting, and the cuts began.  The first item to get cut was, as no surprise, all government-sponsored dental care.  All dental programs for government employees, military personnel, and officials would be gone…zip.  Savings would be in the multiple billions.
Next item cut:  Food Stamps.  Their rationale was if people don't have food, they can go to the soup kitchens like the rest of us.  Or they can just make their own soup, just like grammaw used to do.  More billions.
Third cut:  All earmarks.  No one at the toothless table knew what an earmark was.  So they just cancelled them all.  More billions.
The Gummers started going nuts on all the frivolous spending on National Endowment of the Arts, studies of Polar Bear mating habits in Alaska, embryonic stem cell research, and Acorn – whatever the hell that is.  They cut out Medicaid completely but agreed to provide each current Medicaid recipient with a bottle of Vicks VapoRub to help with the transition. 
In the end, the Toothless Deficit Commission cut out hundreds and hundreds of little streams that were flowing into Pisswater Channel, and figured out how to balance the whole budget without a tax increase.  But when they presented their study to the President, he looked puzzled and dumbfounded.  All he could say was, "Ahhh…errr…ummm…duh…I mean….hmmmmm."  But the President thanked the committee for their good work, complimented them on their wholesome "rural beauty", but indicated that he had to leave for a security briefing in 5 minutes as he gave them the bum's rush.
He gently placed the study into File 13 on his way out the oval office door.
Disclaimer:  all stories in Bizarreville are fiction, even the ones that seem pretty darn real.
Senator Evan Bayh from Indiana announced his plans to retire from the Senate, sending a shock wave across the Democratic side of the aisle.  At one time he was a formidable presidential candidate, and on a short list of contenders for Obama's VP slot.  But his biggest flaw was that he was the voice of reason and common sense, traits that simply could not be tolerated, nor reconciled with the Giga-Lib agenda.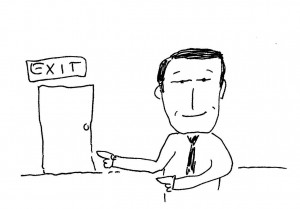 Bayh said that he was sick and tired of sucking up to the knuckleheads on the Left, whom he claims "seem to have left the Planet Earth to explore brave new worlds".  He indicated he is also fed up with the chicken s#!# in the Senate when just trying to do simple stuff.  "You need to schedule a caucus to cut a fart around here."
The crowning blow was when he decided to vote for the whacky Obamacare health bill, against his better judgement and intuition…then found himself vomitting over the stool later that evening.  He said it reminded him of the time he drank a quart of Ripple wine followed by a quart of Schlitz Malt Liquor while back in college. 
But he also said that the nonsense about Cap & Tax, the faux Jobs bill, and the secret plans to takeover the Breakfast Cereal industry…supposedly because Corn Flakes just aren't crunchy enough anymore… was more than Bayh could take.  "Does this kookiness ever have an end?" Bayh questioned, rhetorically.
Bayh also indicated that he had seen a doctor who had diagnosed him with Demagogue Fatigue Syndrome.  This is a little known affliction which can crop up when a politician has just heard enough BS to the point his ears start to turn brown.  The only cure is to get far away from Washington, DC.
Democratic party leadership had no official comment beyond saying that he was whole on his coffee dues, and always paid his Super Bowl office pool bets on time.  But privately, Dem insiders said that they look forward to putting forth a first-class candidate, Oliver Spunkle.  Spunkle is a professor who teaches Marxism and Crocheting at Indiana University, is a staunch vegetarian, has never held a real job, and still wets the bed.  "We think Indiana voters will vote for him because of his affiliation with IU and because he had played basketball at his small-town Indiana high school," the insider commented.
Opponents point out that Spunkle played on a team that went 0-20 his senior year, only had 6 players on the whole team, and Spunkle rode the bench.  But of course that was before he became a vegetarian.
Disclaimer:  all stories in Bizarreville are fiction, even the ones that seem real.
To break the monotony of wraggling over bills, Congress has adopted a fun little internal game that they will be playing with themselves.  It's called "I'm more bipartisan than you".  Each congressperson will amass points between now and November whenever they do something that shows bipartisanship.  Of course the difficulty and excitement in the game is that no one there really knows what bipartisanship really means.  So it will be hilarious to see how they stumble and bumble trying to figure out how the points system works, and then conniving games on how to score points.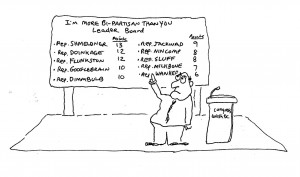 Now the rules of the game are as follows.  Every time a congressperson tells an opposing member "that's a great idea", he/she gets one point.  It can be recognizing a great idea on a landmark bill, or discovering a new way of washing his hands after going to the poddy.  It cannot be sarcasm (i.e. that's a "great" idea), although the cleverest members may find ways to sneak some sarcasm into the dialog without the unclever, mind-numb opposing member even realizing it.
The congressperson will get 2 points if they have had a meaningful discussion with an opposing member to try to resolve a persnickety disagreement on a bill.  Points, however, will not be awarded if the person makes disparaging comments about his grandmother, makes inaccurate comments about certain body dimensions, or uses the F-word in describing what actions the opposing member can do with himself.
They will get 3 points if they actually find common ground with an opposing member.  Naturally, all feel that these points will be rarely given out.  It's not even clear that most of these hardheads even know what common ground means, so it will be especially difficult for any of them to know it if they see it.  But points are theoretically available to the rare few who might take the time to probe and reconcile true desires of each side…or, more likely, the rare few who stumble upon common ground by sheer accident.
Finally, they will get 5 points if they actually come to a written bonefide agreement on an issue with an opposing member.  A panel will question both members to make certain that they really agree and are not just pretending to agree to get extra points.  Laughing or spit-takes during the panel questioning will put grave doubt on the authenticity of the agreement.  And if found to be faked, it will cause both players to lose 5 points, and furthermore, both members will be forced to listen to House floor speeches for 3 solid days in a row as additional punishment.
No points will be awarded for "compromise" agreements, where both sides feel like they lost in the deal.  Anyone caught compromising in this manner will be given a travelling stuffed toy duck that just quack, quack, quacks all day.  The Quacker will be required to be kept on the Quackee's desk for the next 24 hours.
The winner of the "I'm more bipartisan than you" contest will receive an upgrade to his seat in the congressional chamber to a La-Z-Boy Sleepmaster XF…so that if he/she is going to be bored, at least it will be a comfortable boredom.  The seat has an optional vibration unit that can be energized when the House is set for a vote…or the unit can be switched off entirely to prevent sleep interruption.