Archive for January 19th, 2010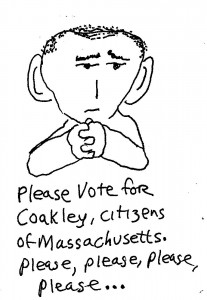 The President made a special trip last weekend to Massachusetts trying to pull all stops in order to avoid losing the critical Ted Kennedy seat in the special election today.  But his personal charm and charisma may not be enough, as Independent voters, exhausted from vomitting over the Reid/Pelosi commode, are switching allegiances by the droves, according to recent polls.
Many liberal pundits have lamented that losing the Kennedy seat will fly in the face of everything Senator Kennedy stood for…collosal bureaucracy, government control over all life functions, and irresponsible spending like drunken sailors out for a joy ride…right at the cusp of having all those dreams really coming true.  They have urged the President to do something, anything.
So the President has been busy trying to find new payola buckets that can be rolled out to the Massachusetts citizens quickly.  "It's got to be more pragmatic than the Louisiana or Nebraska payoffs," said an unnamed insider.  "It must be fast cash in the pockets, no fuss, no muss." 
Insiders say the President, who just met with major bankers last week to shake them down for paying employees enormous bonuses, may have secretly launched a landmark deal.  In the deal, registered Independent voters will be emailed a special password today that will allow them to go to any Massachusetts ATM and withdraw up to $1000 free cash…today before 7pm only.   The four largest banks will foot the bill as a penance for just too much bonus greed, accounting tom-foolery, and general poor eating habits and farting at the table.
Sources say that the Independent Free Cash program will clearly demonstrate to voters that they, the Democrats, are the party of freebies, benny's, and other good stuff on silver platters.  Privately, they acknowledge that many Independents will eventually understand the fallacy in all this.  But they are banking on the 1-day euphoria factor to get through the special election before they think it all the way through.  The nice new 46-inch flat screen TV on their credenza might help with their internal struggles, as well.
A Republican party spokesman was asked to comment on the proposed Free Cash program, and just shook his head and said, "Friggin' idiots."  A bank CEO who had been listening-in said, "I'll second that."
Disclaimer:  all stories in Bizarreville are fiction, even the ones that sound real.