Archive for January 8th, 2010
With Democratic members of Congress nestled tightly behind locked doors debating/negotiating final language in the upcoming Health Care bill, the public has been left wondering what monstrosity-from-the-deep will emerge.  Pundits have questioned why the process has been so secretive, particularly when the President promised that the negotiations would be transparent, with cspan television coverage.  Some in Bizarreville are saying this is yet another broken campaign promise, and the latest in the 2010 Misrepresentation Olympics.
A White House spokesman met with reporters yesterday and said that, yes, the President misspoke when he said it would be transparent.  He meant to say "translucent", an easy and forgivable mistake for someone to make who is not an optical scientist.  The President apparently always gets the two words confused.  He said that the meetings are indeed translucent in that people know there that there are some people moving, shuffling, and fumbling around in the room, but they just can't see what their doing or saying.  But, he said, you can probably guess that it has something to do with adding layers of bureaucracy, and piling up costs to fix something that isn't broke…duh.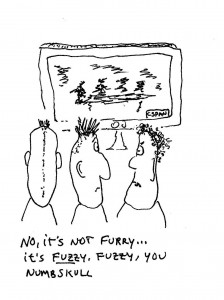 Reporters questioned why the meetings weren't being covered by cspan, as the President had promised.  The spokesman indicated that cspan had brought in cameras and put on special frosted-glass type lenses to get the translucent effect…even had a few Aides watch it and comment.  "The picture was very blurry and just did not seem to be very effective," he said.  "Plus, not having any audio made the whole thing seem like you were just watching a TV test pattern."  Congress people had considered taking off the frosty lenses in order to have a clearer picture.  But it showed just a little too much intimate detail… a lot of touching, scratching, and pants dropping, that might not be considered appropriate for their PG-level viewership.
The spokesman said that the President is committed to having high levels of translucency in all policy matters during his administration.  "You might not be able to see the details, but you'll know something is happening.  And that is what change is all about."
Disclaimer:  All stories in Bizarreville are fiction, even the ones that sound like they are real.