Archive for January 6th, 2010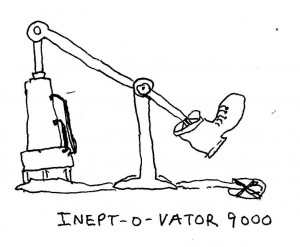 Bumco Motivational Tools Inc has just launched its new line of hydraulically-operated motivational tools, specifically targeted to help citizens motivate their stubborn legislators who refuse to vote their constituency.  With more and more legislators choosing to be total ignoramuses on bills like the Health Care bill, Bumco feels the market for these new tools could explode.  They see expansion of the whole product line, including their high-performance "Wake Up Call" face slapper, and their classic "Anal Redriller".
The Inept-o-vator 9000 has a number of new features, including a new special "Wanker" setting which can deliver 70 boots per minute to the new breed of pesky stubborn spacetakers who just won't respond to the subtle approach.
Liberal critics point out that the Bumco tools are dangerous and have been known to create permanent physical damage to some unfortunate legislators.  But Bumco officials are quick to point out that when used properly, there will normally be no permanent damage unless the legislator continually refuses to heed the will of his/her people.  Bumco also points out that there have been rare cases when citizens have mispositioned their legislators on the unit, causing certain sterility issues.  And, bruising can happen if the targeted legislator has not yet developed sufficient ass lard.  So, the company has issued new operating instructions with pictures that "even a congressman could understand.
Bumco offers a satisfaction guarantee warranty that its products will provide proper motivation to even the thickest of the thick-skulled meat-heads.  Rather than money returns, Bumco promises to send out a team of technicians to properly set tool parameters and/or bring other Bumco Motivational Tools to the scene.  The bottom line, according to the company, is to get the job done.