Archive for November 7th, 2009
New from Quacker Oats – it's Cap'n Trade cereal.  Much different than those old crispy, crunchy cereals that make so much racket and hurt your poor gums, Cap'n Trade offers you that soggy, mushy consistency that you've loved so much over the years.  Just add milk, and watch the morsels turn into a limp, pasty mush that you're sure to enjoy.
It should be noted, as part of this announcement, that Quacker Oats is eliminating all of its other cereal brands…the sweet tastes, the fruity aromas, the crunchy textures.  All those offerings, honestly, were just not good for you.  So they're gone.  Now Quacker offers 1 brand that's good for you.  And you're gonna like it…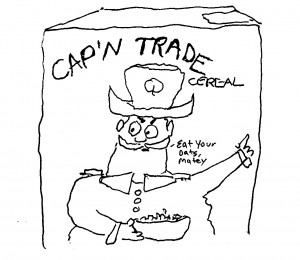 Because it's Healthy.  That's right.  Quacker has spent years in product development to bring you Cap'n Trade, which offers things no other cereal company can boast.  One advantage is that it will reduce your you-know-what emissions by over 20%!  Imagine that…20 percent.  Cap'n Trade's special formulation of oat bran, Gas-X, and sodium bicarbonate will make you feel like you just capped your keister.  Won't that be nice…for you, your family members, and really the entire Globe when you add it all up.  That's a lot of carbon emissions, if you know what I mean.
Plus, in every box, kids will find a free professional Soccer player trading card.  Everyone remembers what happened with Baseball trading cards over the years; old ones are worth a fortune now.  Imagine the fun as your kids save these valuable cards, trade them with their friends, while at the same time retaining a high-return investment for their college futures.  Slam dunk, money in the bank.
So pick up a box of Cap'n Trade cereal at your local grocer.  And proudly show your friends how darn smart you are by reducing "tail pipe" emissions, and investing smartly for the future.  We're sure they will think you're brilliant, simply brilliant.