Archive for the 'Health Care pffffft' Category
With Democratic members of Congress nestled tightly behind locked doors debating/negotiating final language in the upcoming Health Care bill, the public has been left wondering what monstrosity-from-the-deep will emerge.  Pundits have questioned why the process has been so secretive, particularly when the President promised that the negotiations would be transparent, with cspan television coverage.  Some in Bizarreville are saying this is yet another broken campaign promise, and the latest in the 2010 Misrepresentation Olympics.
A White House spokesman met with reporters yesterday and said that, yes, the President misspoke when he said it would be transparent.  He meant to say "translucent", an easy and forgivable mistake for someone to make who is not an optical scientist.  The President apparently always gets the two words confused.  He said that the meetings are indeed translucent in that people know there that there are some people moving, shuffling, and fumbling around in the room, but they just can't see what their doing or saying.  But, he said, you can probably guess that it has something to do with adding layers of bureaucracy, and piling up costs to fix something that isn't broke…duh.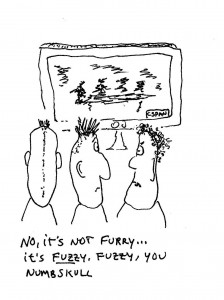 Reporters questioned why the meetings weren't being covered by cspan, as the President had promised.  The spokesman indicated that cspan had brought in cameras and put on special frosted-glass type lenses to get the translucent effect…even had a few Aides watch it and comment.  "The picture was very blurry and just did not seem to be very effective," he said.  "Plus, not having any audio made the whole thing seem like you were just watching a TV test pattern."  Congress people had considered taking off the frosty lenses in order to have a clearer picture.  But it showed just a little too much intimate detail… a lot of touching, scratching, and pants dropping, that might not be considered appropriate for their PG-level viewership.
The spokesman said that the President is committed to having high levels of translucency in all policy matters during his administration.  "You might not be able to see the details, but you'll know something is happening.  And that is what change is all about."
Disclaimer:  All stories in Bizarreville are fiction, even the ones that sound like they are real.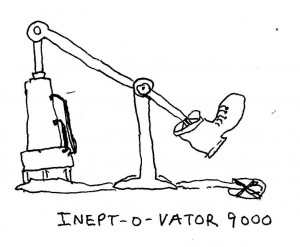 Bumco Motivational Tools Inc has just launched its new line of hydraulically-operated motivational tools, specifically targeted to help citizens motivate their stubborn legislators who refuse to vote their constituency.  With more and more legislators choosing to be total ignoramuses on bills like the Health Care bill, Bumco feels the market for these new tools could explode.  They see expansion of the whole product line, including their high-performance "Wake Up Call" face slapper, and their classic "Anal Redriller".
The Inept-o-vator 9000 has a number of new features, including a new special "Wanker" setting which can deliver 70 boots per minute to the new breed of pesky stubborn spacetakers who just won't respond to the subtle approach.
Liberal critics point out that the Bumco tools are dangerous and have been known to create permanent physical damage to some unfortunate legislators.  But Bumco officials are quick to point out that when used properly, there will normally be no permanent damage unless the legislator continually refuses to heed the will of his/her people.  Bumco also points out that there have been rare cases when citizens have mispositioned their legislators on the unit, causing certain sterility issues.  And, bruising can happen if the targeted legislator has not yet developed sufficient ass lard.  So, the company has issued new operating instructions with pictures that "even a congressman could understand.
Bumco offers a satisfaction guarantee warranty that its products will provide proper motivation to even the thickest of the thick-skulled meat-heads.  Rather than money returns, Bumco promises to send out a team of technicians to properly set tool parameters and/or bring other Bumco Motivational Tools to the scene.  The bottom line, according to the company, is to get the job done.
A new, venture-capital financed startup is emerging on the scene to take full advantage of the new Bizarreville Health Care program – Placebo Brothers Medi-quirk (PBM).  The company will focus on development and marketing of new/better placebos which will be sold stand-alone, and also mixed in with generic drugs to reduce the cost of an average 30-day prescription.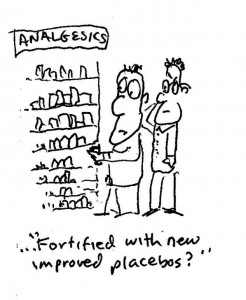 Elmer Squirp, Marketing Director for PBM, says that studies have shown that most patients can't tell the difference between real medicine and placebos.  Sprinkling in 25 to 30 percent placebos into a prescription will be unnoticable to Joe Average out there because the placebos will look and taste like the real thing.  Squirp says, sure Mr. Average may take a day or two longer to get over his ailment…but what's the diff?  Furthermore, the placebos will allow the body's own natural defense mechanisms to better kick-in, to attack the problem.
Squirp went on to say that the PBM principals presented their intriguing proposition to a group of elite liberal senators who promptly fell in love with the concept, and diverted a quick billion of stimulus funds to finance the venture.  "They told us this fits right in with the new government-run Health Care program, and helps reduce the multi-trillion dollar deficit that the Health Care program will be creating."  The placebo program will also be properly rubbed in the noses of the prima-donna brand name drug companies and their high and mighty arrogance.  Squirp said that the Era of the Brand Name Drug, with their high-cost, smoke and mirror research and development mumbo jumbo, is quickly coming to an end.  PBM will be there to fill in the pill gap, so that the country will not run out of pills to take.
Critics say that this is yet another example of the "dumbing down" of the world's greatest health care system, and turning it into a system that any 3rd world country would be proud of.  But PBM officials reply that patients are already dumb, they don't read the labels or check out the side-effects on the Internet sites…they just pop the pills, brainlessly.
Meanwhile, the new PBM Marketing department is busy combing through 19th century advertisements for various snake oils and magic elixers, the golden age of chicanery.  They plan to roll out a separate product line of placebos touting it can 'cure all ills of mankind, invigorate the soul, and reduce gas pressure'.  PBM expects to roll out the new line, tentatively called 'Shmunx', by Spring 2010.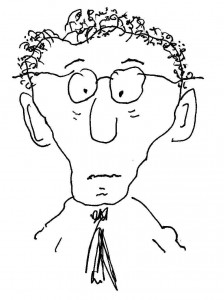 How can this man eat this unspeakable mess? A mess of such wreakable stench? How can one digest such a mess…who could guess? Enjoined by his benched men of hench.   Could be that his brain just fell out with his mane? Could be common sense went to ground? Could be…could it be…could he just be insane? Could it be that his crown has been crowned?   A crown that he found in some old Lost and Found 'Neath wallets that thieves had once picked With bobbles and bling, and things worn by some clown And two candles of Hope, just de-wicked?   Crown plopped on his head, and he said, "Yes it fits! And doesn't this nice crown look nice?" It even looks nice on the throne that he sits Where he  S#!*ts  out his new nitwit lies.   Oh my, Harry Reid You're not
my
Harry Reid! I guess you belong to the Ages You might just belong in the Hall of the Wrong — Enshrined Cons all locked up in cages.   You blabber, "This Health spoof is good for you goofs. Don't care if you don't like its merits. Just shut your pie holes, and behave like good dufes… And stop putting cheese on your carrots."   But Harry, old goat, there will soon be a Vote At some point your old boat will sink. Oh, when your boat sinks, we will toast with stiff drinks And watch your stink sink in the moat.   Then left to unbake: this damn Health Plan mistake T'was written on Reid's Etch-a-Sketch. Turn over so all the sketch dust will deflake Shake, shake us from this piece of wretch.
A new book has been released by Bizarreville Press authored by Senator Ben Nelson of Nebraska, describing his painstaking journey from a career as a prestigious politician to a cheap skanky prostitute.  It is a career shift that few, if any, have made…and certainly no one has done it quite like Ben.  It's great reading for the whole family and a lesson to the youngsters out there:  anything is truly possible if you have the will, a will that can overcome stupid things like scruples.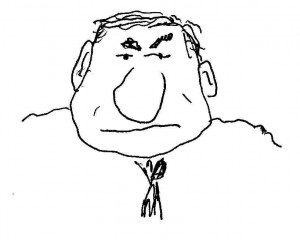 Many people are shocked and amazed that he would make such a change.  Others are amazed that anyone would pay for his services…whatever services those might be.  The intriguing story points out that the lives of politicians and prostitutes are not that much different from each other…both entailing much back-scratching, butt-scratching, and sucking…lots of sucking.  "You get what you pay for" is a theme that threads its way through the book, suggesting a thick wallet is the key to achieving high aspirations and/or getting a good ride.
The author points out that people make choices, and some of those choices can be difficult.  He brings in his personal experience voting for the Health Care Plan as one of the toughest decisions he's ever had to make in his life.  Nelson admits that he knew that the Plan was pure malarky, destined to literally destroy the world's greatest health system.  Furthermore, he clearly understood that it would bankrupt the country's financial system, already rocketing down the highway on a crash course.  He acknowledges that his constituents back in Nebraska overwhelmingly disapproved of the stupid Plan, and showered him with emails and phone calls, suggesting he might want to consider the bizarre concept of actually representing his people.  "But, man, when they brought in those exotic dancing girls who just kept pouring me great Champagne and tickling me with those feathery things…well, it made me realize we must live for today…just like the song…don't worry about tomorrow.  It was one of those epiphany moments."
The book concludes that sometimes Leaders must make tough decisions, ignoring their instincts, dismissing hard facts, pushing aside advice from trusted colleagues, and totally blowing-off the will of the people.  "That's why they pay us the big bucks…as the old cliche goes."
Disclaimer:  All stories in Bizarreville are fiction.  Even the ones that sound like they could really be true.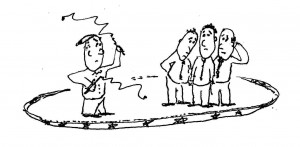 Sensing there was some leakage wisping among the Dems in the Bizarreville Senate on the upcoming Health Care vote, Leader Harry Dweed took decisive action.  He needed a professional, skilled at driving alignment.  Dweed brought in Shlembo, the circus lion-tamer, with a reputation for taking the meanest, nastiest, most ornery beasts and breaking their wills.
Shlembo is highly skilled in using 2 whips in his taming technique.  Allegedly, Shlembo can snap an unfiltered Camel cigarette out of a Senator's mouth before he can exhale one ounce of secondary smoke.  He can pick off a single curly hair with one swift crack.  He claims he can have these stubborn hold-outs dancing the hokey-pokey in their underwear by vote time.
Some blue dog Dems are understandably in a bit of a pinch….they are stuck between supporting their loyal, loving constituents back home versus sucking up to Harry.  "It's so darn difficult when your core values are fluid," said one unnamed wind blowee.  "In today's world, you absolutely must keep your belief system flexible.  Hey, just last night I had a talk with my family about converting to Scientology so we could be more hip.  I ordered a chicken sandwich at a MacDonald's for lunch when I saw the lousy poll ratings on Burger-eater favorability.  Just made the big move to boxers.  It's all about being smart."
Dweed thinks Shlembo will snap these coreless wonders into shape and get their thinking straight.  "Either that or they're gonna have some sore backsides,"  Dweed is serious as a heart attack on this issue.  "Socialized medicine is the most critical fundamental building block in our drive to expunge the old capitalistic ways.  We can't let it all fall apart because a couple confused dingleberries forgot how to wipe their  a$$#*!$."
Bizarreville Senate leader Harry Dweed has got the whole Health Care issue figured out.  He has, however, had to bank on a new, not yet fully recognized branch of Mathematics to make the numbers come out right…a branch he has named "Bizarreville Math".  PhD mathematicians worldwide are scratching their collective heads to decipher the pretzel logic on this one.  It could be a candidate either for the Nobel Prize in Math, or the Gobel Prize in comedy.  We'll see.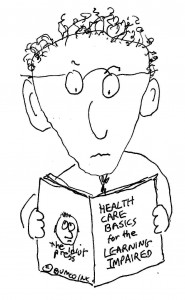 Dweed proposes to expand Medicare to people in the age group 55-64, whom he says desperately want to early retire from their boring, mundane 40 hour/week jobs.  "These people have golfing and gardening to do, and it's getting harder to get it all done just on weekends," Dweed advocated.
At the same time, Dweed proposed drastic cuts in Medicare coverage, such as limiting all hospital stays to 1 day max, and eliminating so-called "discretionary" procedures such as heart bypass surgery, hip replacements, and cataract surgery.  "There's alternatives for all those procedures that are far cheaper," said a lib senator who apparently owes Dweed a favor.  "My mother-in-law is a working example of 1 of those.  I just bought her a beautiful guide dog for 200 bucks.  That's what we call 'fiscal responsibility' in our household."
Dweed said that his program will make Medicare solvent once again, using Bizarreville Math concepts and fully endorsed by Bill Smith Accounting and Waste Disposal Services LLC.  Critics have challenged the analysis, but Bill Smith gave a simple answer on how it works.  "Senator Dweed just gave me the answer, and all I had to do was plug the numbers to make it come out right.  Could not have done this years ago.  But with new Microsoft Excel spreadsheet technology, it makes it so much easier to do the reverse math."
Dweed responded that it's not quite that simple.  He claims that he used sophisticated algorithms, linear regression, and multi-variate analysis of inputs to derive the proforma calculations.  "But I guess we came out with the same answer, so who cares?"
(thanks for the idea, Mark)
B-Mart, Bizarreville's largest discount chain, unveiled a new exciting strategy yesterday – its plans for entry into the primary medical care business.  Company spokesmen indicated it fits extremely well with the new government health care program, which will be seeking high-volume, quickie-care providers to displace the soon-to-be-obsolete model of slower deliberate medical care.
B-Mart is particularly well-suited to this new model of care.  The company built its enormous business on providing cheap consumer crap to the masses.  "This is exactly what the new health system will be wanting…especially when demand skyrockets as whiney hordes want their noses wiped, just as more and more "conventional" doctors bolt and retire.  Someone needs to fill the void, and it might as well be us."
B-Mart plans to displace their underperforming Auto Parts department with this new, fast-growth department.  "Who buys their own oil filters anymore?  Go to Jiffy Lube."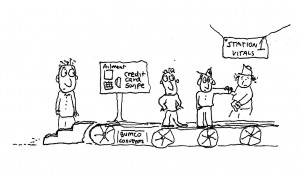 B-Mart's creative engineering team has come up with an innovative moving sidewalk approach to maximize patient throughput.  The people mover will be similar to what one might see at some airports today.  Patients will jump on board, and travel from station to station:
– Patient will swipe their credit card at the start, and punch the ailment button from a menu choice
– At the first station, vitals will be checked by an octogenarian quasi-nurse, just promoted from the Greeter job, and given an official looking nurse hat.
– Next station: urine test station, which may get a little tricky and will require some degree of coordination and dexterity to prevent making a disgusting mess.
– Pass through a combination x-ray/CAT scan machine for a quick flash.  The pictures are never developed nor used, but it gives the patient the confidence that something real is happening.
– A real doctor (not necessarily the brightest bulb in the fixture, but one who does have a bonefide shingle) will do what real doctors do:  look down your throat and ears, ask you to cough, thump a few things, then write down a lot of blurbage on a record of some sort.  If time permits, the doc may ask you what specifically your problem is, but this information is not critical to the overall process.
– An automated shot dispenser gives you one in the hiney of some predetermined concoction of goop.  Meanwhile an automatic printer spits out a fresh prescription for you to take over to the Rx counter.
B-Mart thinks they will revolutionize meatball health care just like they revolutionized mass junk retail.  They are thinking an introductory price would be $9.95 per visit…and that cost may even be picked up by the government in the Public Option.  Clearly, innovation is back in full swing at B-Mart and they are ready for the next wave of mass customers.
Reports are surfacing of much sinister deal-making by Leaders squirming to get votes to pass the new Bizarreville Health Care program. It's going to be a close vote, so they're exercising their creativity like never before.
Allegedly, leaders promised one lawmaker that his district would get funding for an all-new theme park if he voted YES on the bill.  The park would create thousands of new jobs.  When Leaders were challenged about this shenanigan, the Whip explained it would be a "Medical Theme" theme park with roller coasters that look like giant arteries and coaster cars outfitted to look like clots.  There would be simulators that take riders on exciting, adventurous trips up the human bowel.  "It would be an educational experience like no other for the kids, and a perfect fit with the intent of the proposed Health Care bill to better educate the public," said the Leaders.
Another lawmaker was wavering on his vote, so Leaders threw him a bone…funding to rebuild each and every highway in his district.  The decision was rationalized by saying those potholes and rough roads were creating teeth-jarring impacts on backs and spinal columns, running up health costs for the citizenry.  Fixing the roads and reducing these costs would greatly help pay for the huge bureaucracy that would be necessary to drive the whole program.  The Lawmaker tried to hold out for all concrete roads, but reluctantly settled on some asphalt in the final negotiated deal.
A 3rd lawmaker, Ernest Drooper, wanted his back scratched at least as much as those other two.  Drooper and the Leaders wrestled through several negotiating sessions to delve into what greasing-of-the-skids would be needed to change his vote.  Finally, they agreed to build a modest-size pharmaceutical research laboratory focused on eliminating corns on baby toes…apparently a huge problem among his constituents.  The Corn Toe Lab will break ground early next year.

So, it's looking like the Health Care bill is getting the bolstering it needs for passage.  There could be some additional vote leakage as word gets out of the flim-flamming going on, and other lawmakers demand their fair share of beak-wetting.  But Leaders plan to hurry the bill through, while Pandora's box is still partially closed.
Bizarreville citizens are getting suspicious.  First it was the whole business of the Feds commissioning the medical study that ultimately concluded that women did not need annual mammograms, in fact did not need to even start until 50 years old.  Frustration could clearly be seen on the faces of Officials in the Health Dept, almost to the point of shock.  Later,  it leaked out that they were looking for a frequency of every 5 years, starting at age 60.
Soon after, another curious study showed up in press releases.  This one concluded that clipping toenails would prevent catching the flu…and this was much more effective than stupid flu vaccines at 25 bucks a pop.  The study also pointed out that toenail clipping was much lower risk than going to your doctor's office and incubating in his germ-infested scuzz-bucket waiting room, departing with new ailments.
But then, a 3rd study was published recommending all citizens smoke at least 3 packs of cigarettes a day.  The stated rationale was that the enormous amount of inhaled tar essentially built an impenetrable protective shield, preventing nearly all types of parasites and microbes from entering the body.  Plus, the abundant poisonous additives mixed into the tobacco would be very effective killing cancer cells and other unwanted nasties.  The study further recommended that all restaurants revert back to putting No Smoking areas in lousy back corners of the room, like was done in the old days, thus flip-flopping the 2nd class citizen designation.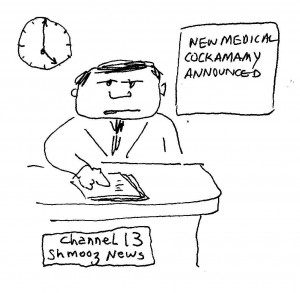 Skeptics say that these whacky studies do not pass the Smell Test…in point of fact, they smell like 6-month old stale liverwurst sandwiches stuffed in a gym locker with well-perspired undergarments.  Nevertheless, Bizarreville authorities have stamped the studies as "Official", and are using the results to help mold the new upcoming Health Care program.  "Smells like money to me," one official was quoted saying.
The new provision in the Bizarreville Health Care program forcing jail time on those who defiantly refuse to buy Health Care has set off a bit of a storm.  And rightly so.  The detractors correctly point out that prisons are presently over-crowded, which has allowed some thieves and murderers to be let out early…back on the street to their lives of pilfering, maiming, and other thuggery.  Critics argue that this new Health Care provision will just put more dirt-baggage on the street where gang goons are ready to swoop down and whisk them back to the nest.
But the clever legislators had already thought about that, and worked up a solution.  There will be considerable funding in the gradiose Health Care program to build a new nationwide array of jails for the new class of scofflaws…Health Care Ditchers Prisons.  Each will be a cookie-cutter replica of each other, with a moderate level of security to keep these rascals rounded-up.  And each prison will be fully staff to administer rehabilitative health care, and lots of it…daily checkups with lots of pokes and probes, enemas, generic drugs and placebos 8 times/day, bland healthy meals with lots of oats.  "We will drive this anti-health care behavior clean out of them, excuse the pun.  They will either learn to love it, or they will get more and more of it.  The most ornery will be put in solitary with a round-the-clock nurse, continually taking blood pressure and anal temperature.  We believe in rehabilitation, and the Health Care Ditcher Prison concept will make it happen."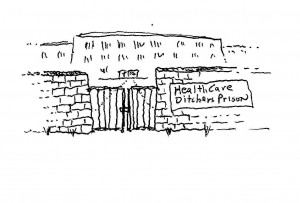 These Idealists believe that, once released, the Cons will rejoin society and pony-up for the health care insurance without gripes or acts of violent defiance.  "They may not go for all the supplemental coverages, but they will shell out for the Basic package, believe me.  That aggravating streak of independence will be mollified…replaced with a new sense of toe-the-line conformity."
There will also be a Health Care Ditchers federal agency to manage and enforce the rules.  Already, the agency is gathering names of likely culprits.  They are particularly looking at Apple Computer users as a breeding ground, since these people in the past have typically exhibited severe conformity issues, and could be trouble-some.
Meanwhile, the agency is also developing a national advertising campaign to give all citizens fair warning.  It will be based on the theme tag line:  "Buy or Fry" …a message sure to convince the reluctant ones to sign up quickly for the health insurance program, whether they want it or not.
Congressman Burfman, supported overwhelmingly by his constituents, is pressing hard for passage of his Beer Amendment in the Health Care bill.  The Beer Amendment would classify beer as a prescription medication under the auspices of the FDA.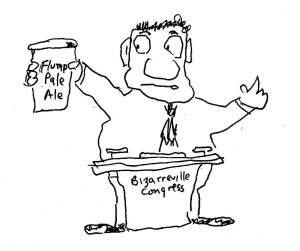 Initially, many were against the concept of having beer under federal authority…the oversight, the bureaucrazy, the numbskull rules and regulations, etc.  But Burfman explained how it would work under the new Health Care plan.
"Here's how it would work.  You go to your family doctor, and claim that you're totally stressed-out, causing palpitations, tremors, headaches, whatever.  The Doc prescribes beer…and not some wimpy "Light" beer, but a full-bodied pale ale…and makes the prescription to specify taking one six-pack per day.  Now here' s where the fun comes in.  You go to the mail order prescription firm, and get a 90-day supply for a lousy $10 co-pay.  Huh??  That's right!!  You get 540 premium pale ales, over 22 cases of brewskies for one sawbuck.  I believe that comes to 2 cents per beer, if my math is correct.  Now is this an idea we can all find some common ground on?  Can we cross the aisle, shake hands on this?"
The Budget Office is running the numbers.  But their preliminary analysis is that this would be a hell of a lot cheaper than some of the so-called "regular" nervous/anxiety meds priced out the wazoo.  It appears they will give it the green light.
Meanwhile, some of the old fogies in the Bizarreville Congress object that this whole thing is totally ridiculous, absurd, and out of the question, "Beer medicine…baaaah."  But Burfman replies, "Why not a Beer Amendment?  There's a lot more stupid stuff in the freaking Health Care bill than the Beer Amendment."