Archive for the 'Health Care pffffft' Category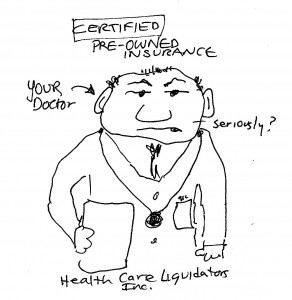 Attention Obamacare Shoppers:
You have been frustrated, waiting and waiting to be able to get service at the crippled Obamacare website, right?  Then, when it looks like you finally get a connection, you get dumped into a cyber-waiting room for endless hours.  Meanwhile, your previous insurance company has cancelled you, leaving you buck naked from a health coverage standpoint.  A crying shame.
Well, now the wait is over.  The administration has contracted with Health Care Liquidators Inc. to offer citizens whose health care programs have been obliterated a special deal:  pre-owned health care coverage at discount prices.  This new program has been certified by the Obamacare Death Panel Oversight Committee, and promises that the certified pre-owned coverage will be just as good as new coverage.  The committee guarantees policy owners can keep their old doctors…provided those doctors are registered with the Health Care Liquidators network and are willing to accept the discounted fee structure.
These policies have just come from owners, like yourselves, who bailed when Obamacare looked to be the new fad.  Some pre-owned policies have slight cosmetic damage.  Whereas they might not look attractive to purists, or have the fabled new policy smell, they will still function adequately in most situations.  Administration officials have said, "Hey…it's better than nothing."
Be one of the first to enroll in the Certified Pre-owned Health Care policy program, and you will be automatically enrolled in a drawing for a free 4-slice toaster.  The toaster slots are wide enough to jam bagels, texas toast, even hot dog buns.
Disclaimer:  all stories in Bizarreville are fiction, at least so far
Complaints have been registered across the country pertaining to that sharp increase in the bothersome whooshing noise that cropped up on Sunday.  Ear Nose & Throat doctor offices have seen their waiting lines grow to a staggering half-block long.  But, unfortunately, the docs have been unable to offer their flustered patients any immediate remedy.
The Sucking Sound had been first warned by Ross Perot back in the Summer of 1992.  But his crackpot style made people refuse to take him seriously.  Nevertheless, he had forewarned of the Suckphonic Disturbance during campaigning, cautioning citizens to take action to prevent the calamity.  And for many years, although the suck became somewhat louder and louder, it had never quite reached the eardrum implosion level, until Sunday.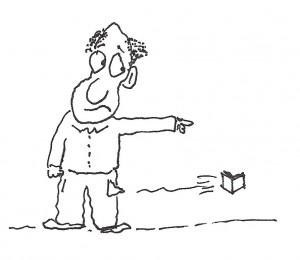 Several citizens complained that their wallets had literally gotten sucked out of their pants pockets as they walked along the sidewalk.  They would chase after the illusive sucked-away billfold, but when they caught up to it, all the bills had been sucked out, along with credit cards, medical insurance cards, and Lotto tickets.  Only photos of mama and condoms were left in the battered wallets.
Other citizens claimed that the giant suck pulled zeroes right out of their IRA's, instantly turning $200 thousand balances into 20 bucks.  One guy claimed it sucked so hard on his 401-K that it took a positive $90 thousand balance and turned it into a negative 90K. 
"How can that happen?!?" screamed the outraged middle-aged investor.  "Easy," his liberal/progressive congressman said.  "It's called sharing the wealth, sharing the dream, giving the less-fortunate a leg up…and teaching you greedy bastards a lesson.  Complain a little louder, punk, and we'll crank it up to Mega-Suck, and get your deficit into 6 digits. "
Meanwhile, however, the loud sucking sound is getting irritating, even to the sponge crowd.  They would like the same suck, but just less noise.  Since no one knows how to do that, lawmakers are expected to approve a multi-billion dollar grant for a high-level research project to study Quiet Suck technology at a designated left-leaning elitist college.  The money will come out of the new Health care slush fund.
Luis Gutierrez, representative from Illinois, was the latest in the series of Dems who have indicated plans to switch from No to Yes on the upcoming Obamacare vote.  Mr. Gutierrez was asked why he switched.
"Originally, I thought the Obamacare program sucked, sucked bad.  I was concerned, along with my constituents, that the government takeover of one-sixth the economy was not what we wanted, the death panels were a bad idea, and the trillion dollar cost tab was obnoxious.  Furthermore, I felt that we shouldn't make the taxpayer pay for sex change operations or male enhancement hormone therapy.  But what really irked me was when I heard that the new bill would not allow illegal immigrants to participate.  I was flabbergasted at this unfair act of blatant discrimination.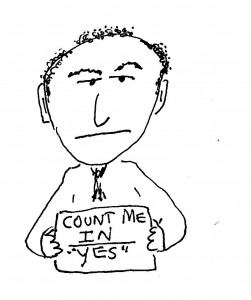 "But I met with the President, and he helped put it all in a better perspective.  He told me that the evil Health Insurance companies were busy building a Death Star to blow up the planet, similar to the one that destroyed Alderaan.  Those insurance creeps have been using the enormous profits raked from our poor citizens to finance the construction work, and it was slated for completion within 4 years.  He said if we don't stop them, crush them, they will complete the Death Star, relocate all their favored people onto it, and super-laser beam the earth.  The President also mentioned that he had inside information that there would be zero illegal aliens invited to board the Death Star…zip, nada.
"I knew that the Insurance companies were bad guys, but I never knew they were this nasty.  I knew they were indiscriminately jacking our rates up, but I never knew where all the money was going.  I thought that the rates were going up to pay for more technologically-advanced diagnostic equipment and extensive medical treatment facilities to prolong life.  Now I find out it has been used for technologically-advanced evil spacecraft to extend life for these extra-terrestial wannabes.  Man, was I wrong on that one!  No clue."
Obamacare bill opponents told Gutierrez that the Death Star garbage was pure crap.  They laughed and said there is no such thing as a Death Star, and even if there was, they certainly wouldn't blast Earth.  But Gutierrez responded that this was the honest-to-goodness President telling him this information, and there is no way he would ever make up that kind of stuff.  Luis said we need to support Obamacare immediately and snuff out these Insurance freaks and all their illicit buddies before we all end up vaporized.
Gutierrez looks at it from a practical standpoint now:  a trillion dollars to save the entire planet?  Easy choice.  "I'm on board with the President on this one."
Disclaimer:  all stories in Bizarreville are fiction, even the ones that seem pretty real.
BB:  Looks like the House is going to try to pass the Senate bill by some flakey "deem and pass" rule so they don't have to actually vote on this package of sheer stupidity.  Is that okay with you?
BO:  I don't give a  s#!%  what procedural tom foolery they use to jam it through…just so long as the pass the friggin thing and I sign it.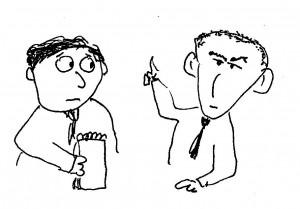 BB:  We asked our viewers to email suggested questions.  More than 18 thousand took time to email them in.  Here's one from California asking why all the intimidation, arm twisting, seedy deals…
BO:  Pfffft….18 thousand?  That's nothing.  I could line up 40 thousand left wing kooks in less than 15 seconds who want more arm twisting, more seediness, and a hell of a lot more intimidation.  That's why I've been stumping to intimidate these fence sitters.
BB:  But these are real people…
BO:  People, shmeeple.  Most of them don't know what's good for them.  It's like when our moms forced castor oil down our throats when we were sick kids.  We just held our nose and gulped it down.  If we had a vote in those days, the castor oil company would be out of business.
BB:  But what about all these skanky deals, like the Connecticut deal…
BO:  The who….what???
BB:  The Connecticut 100 million bucks for the hospital deal, or Montana special asbestos program, or Florida's special deal on Medicare.  The people in  Bumf%*k , New Jersey are wondering when their sweetheart package is coming down the pike?  People are saying this whole process is butt-ugly.
BO:  Okay, sure.  I, too, called this whole dealmaking process an "ugly" process at the Summit last month.  But the fact is, you have to do a certain amount of ugly stuff to get the votes.  I don't like it, Harry Reid doesn't like it, Nancy doesn't like it…but it's just something we have to do to get stuff passed.  The Republicans did the same thing when they were in charge.
BB:  But, sir, they did it on chicken sh!#  bills.  You are doing it on a bill that will impact one-sixth of the US economy.  One sixth, dude…
BO:  Yes, but we're not transforming one-sixth of the economy all in one fell swoop.  It's going to take a dozen swoops, maybe two dozen swoops before we get this health care program completely controlled by government.  I rejected a lot of strong demands from the Left who wanted a much quicker transition to socialized medicine.  But I said:  'Whoa…hold off until Swoop #3 or #4 with those notions so we don't totally freak out the country with our master plans.'  You see I'm trying to act like a centrist, and work with the other side.
BB:  The Congressional Budget Office has said the $500 billion you say you're going to save on Medicare is not even being spent on Medicare today.  Are you just making this stuff up as you go along?
BO:  Yes, partly.  It's kind of like what we did when we talked about job loss avoidance.  There are really not any new jobs being created, but how can you spin that kind of bad news?  Easy, just talk about how many jobs might have been lost if we didn't do these goofy programs.  We have excellent analysts who can gin up these fictitious numbers to make it sound good to the public…
BB:  Sir, you are filibustering again.  With all due respect, could you just answer the question without all your mindless blabbering?
BO:  The point is, yes, we play a numbers game…shifting money between accounts, so that we can say we saved here or there…when in fact we'll be spending cash out the ying-yang.  Some people have figured it out, but honestly, most citizens are too dumb to know the difference, especially our core voters.  They don't care about the $500 billion, they just care about getting that sales price on the Cheeto's at WalMart.
BB:  Well, sir, we're almost out of time.  One last question:  if this Obamacare bill doesn't pass, does this mean you will be considered by historians to be the most incompetent president since Millard Fillmore?
BO:  You're a pretty funny guy.  I'm surprised you haven't gone on the comedy club circuit, rather than hanging around the Creepsville at Fox.  Time to wrap this one up.  Good night.
Disclaimer:  all stories in Bizarreville are fiction.  But you probably figured that out already.
At last count, the Democrats needed about 5 votes to swing from Maybe No to Maybe Yes on the upcoming Health Care vote in the House.  Some congresspeople have been sitting on the fence waiting for a Cornhusker kickback or a promise of a future modification to the Obamacare program to meet their own special need.  One guy said he was still a bit torn between representing his constituents and jumping on the Pelosi bandwagon, but said, "Hey, I can always go back to my original job when I get thrown out…an undertaker.  Lot less stressful, lot fewer complaints from the customer.  Pelosi even promised to send some deceased friends and clients my way.  Pretty sweet…"
Both sides are desperately scrambling to capture the waffler crowd.  Republicans, via talk radio, are encouraging voters to call/scream/email their congressperson.  Dems, meanwhile, convinced the President to cancel his agenda to talk one-on-one with these guys….even visiting them in the shower or stalls if necessary.  They feel that this type of intimacy will create a special bond that will help them see the President and his plan in a new light…and ultimately help them realize their position doesn't measure up.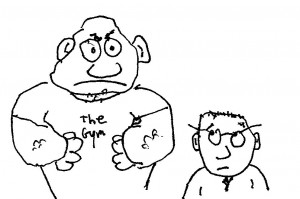 But just to be on the safe side, the Democrats are now pulling out all the stops, and starting to employ Elmer Goink, the Presidential gym instructor and piano mover, to provide a new level of persuasive techniques on the final holdouts.  Realizing that these holdouts are having "basic trouble" understanding simple expectations, the Leaders feel Elmer will help them make the connection.  They feel Elmer's special techniques will work well on the slight-of-build and/or frail old farts who seemingly just need a smidgen of extra encouragement.  These conviction-less people, many of whom surprisingly were used-car salesmen prior to election to Congress, may reconsider when Goink uses terms like unexpected brake failure, chunks of ceiling mysteriously dropping, and bear hugs run amok.
Democratic leaders are already confidently counting these people in the Yes column, and are starting to work on the next piece of government takeover…but have been coy on whether it is going to be the Fast Food industry, the Airline industry, the Kentucky Bourbon industry, or the Waste hauling industry…the latter being a somewhat logical choice since there is so much expertise in the generation side of the waste business already in Washington.  Whichever it is, they say that they need to move fast so they can have a vote before May Day.
Disclaimer:  all stories in Bizarreville are fiction, even ones that seem pretty darn real.
Doctors across Bizarreville were surprised and shocked that the AMA came out in favor of Obamacare.  They asked how can this be true when 90% of doctors are totally opposed to this belligerent, radical takeover of the Health Care industry?  Many doctors are claiming they will retire when/if this nightmare comes true.  They are puzzled that the AMA somehow "doesn't get it", or has chosen to flip the bird to the people they represent.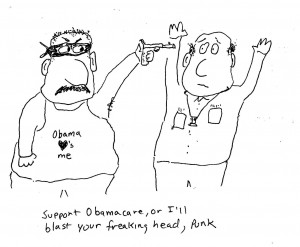 The truth behind this story has been discovered.  Our investigative reporters have dug deep into the bowels of this issue, and found the facts.  Turns out, the members of the AMA Leadership Council were held up at gunpoint several weeks ago, while taking a casual stroll along the Potomac.  A masked man wearing an "Obama loves me" wife-beater shirt and smelling like a Liberal accosted them, threatening to take their $75 million funding away if they didn't play ball.  One of the leaders became outraged and screamed 'No way, Jose'….and he was promptly shot.  Luckily the assailant's gun was a squirt gun, and he was shot with 12 ounces of horse piss.  But it ruined his suit, and the event was enough to terrorize the other wimpified AMA Leaders into blubbering a tacit acceptance of the gunman's demands.
Even the sprayed doctor agreed to play ball after considering that the Obamacare thug might visit his personal home and spray his whole family, his Beemer, and his cigar humidor.  "You think it's funny," the sprayee cried.  "But let me tell you, that horse piss is nasty stuff and hard to wash off.  I can still smell it on that suit…had it dry cleaned twice and it still wreaks like formeldehyde or monofrodian moxolate….ugghhh!  Probably will have to give it to Goodwill."
Many doctors across the land have pledged to drop their horse piss-tainted AMA membership in response to this weak-kneedness to stand up and fight for them.  "Hey, I'll buy the doc a freaking suit," one doctor yelled in anger.  When asked if he would be willing to buy the guy's Beemer, however, he responded, "Probably not."
Disclaimer:  all stories in Bizarreville are fiction, even the ones that seem so real.
Continuing coverage of the President's Health care summit with 5th graders.  Next up for the class is Matt Burpmore:
Q4. How can we make the Health insurance companies themselves more efficient so that insurance costs can come down for the people?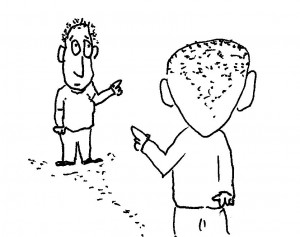 Matt:  Why are the health insurance companies inefficient now?
President:  Part of the problem, Matt, is that there's not enough competition among the health insurance companies.  When there is less competition, companies are not quite driven to reduce costs…so costs start going up.
Matt:  I see.  Thank goodness there's not just one company running all insurance…imagine how costs would go out of control if that ever happened!  But is there a way to get more competition going?
President:  One problem is that Health insurance companies can't compete from one state to another, so that limits how much competition there can be.
Matt:  Why don't you just let them go ahead and compete in other states?  Is there some reason that wouldn't be a good idea?
President:  Well, it's complicated.  It's like if your mom told you that you can only trade marbles with the kids on your street, but not the kids on the next street…because we don't really know them very well, and they might try to take advantage of you.
Matt:  I don't care if they're on the next street.  If some kid there has a marble I like, then I'm going to trade for it.  Wouldn't you?
President:  Yes, probably.  But there is still a problem with all these insurance companies just making too much money and getting greedy.
Matt:  Yeah, I know what you mean.  Last summer, my friend Johnnie Plunger set up a lemonade stand down the street and was charging 5 bucks for a glass of watered-down lemonade.  That was ridiculous.  He was being greedy, and I went over and told him he shouldn't be so greedy.  He told me to…well, I better not say what he told me I could do…but I'm not sure if it's even technically possible.  Anyway, I set up my own lemonade stand and charged 50 cents.  I had a line of customers a block long.  Twelve nano-seconds later, he dropped his price to 50 cents.
President:  Maybe there should be a government rule on the maximum price kids can charge for lemonade?  Say, no higher than a buck a glass?
Matt:  No, sir, I think that would create more confusion, because kids would just keep varying the size of the glass.  I think if you just left us kids to work it out, we'd work it out, trust me.
President:  Perhaps you're right.  Well, kids, thank you for all your insights on health care issues.  If all of us in Washington were as smart as you, we could solve a lot more problems quicker.  But that would just put all the pundits out of a job.  Have a great day.
Disclaimer:  all stories in Bizarreville are fiction.
Continuing coverage from the Health Care Summit between the President and a group of very smart 5th graders.  The next respondent for the class was Rudy Dinglewonk, who took on question two:
Q2.  How can we get insurance for the 30 million people who do not have health insurance?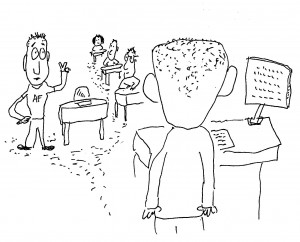 Rudy:  Well, sir, why exactly don't these people have insurance?  All the families I know on my block have insurance.  Jimmy Shmellboink had to go to the doctor last week when he sprained his ankle playing Curling on the ice.  His mom told my mom that they had insurance.  If all those millions of people want insurance, why don't they just go get it?
President:  Well, Rudy, some people are poor and can't afford to buy insurance.
Rudy:  Why can't we help the poor people and give them insurance?
President:  We do that already with a program called Medicaid.  It's a government-run program that helps poor people get health care.
Rudy:  So then if you have Medicaid, why don't those people just use that?
President:  Well, some people make too much money to be on Medicaid.
Rudy:  If they make too much money, then why don't they just go buy insurance?
President:  They say they can't afford it, with all the other expenses and bills that they have to pay for.
Rudy:  Like what kind of expenses and bills?  Is it food, or is it other stuff?
President:  No, they can afford food and other basic necessities.  But with other expenses like cable TV bills, cigarettes, Wii machines, soccer uniforms, Nike Air Jordan shoes, dinners out at Chuck E. Cheese, birthday parties and such…puts a lot of strain on their budgets.  They say that they don't have any extra money for health insurance.
Rudy:  Couldn't you just give them some kind of Discount Coupon to help them, so they could go get insurance?
President:  Well, it's complicated.  We could expand Medicaid, but unfortunately that's a pretty inefficient, cumbersome, disorganized, bureaucratic nightmare program already.  Expanding it might make it even more screwed up.
Rudy:  Why don't you just cancel it if it's not that good…and go with something that is good?  I know.  I used to buy SuperSlump comics last year, but they started getting real boring, and now I buy AstroClod.  It's a lot better, and pretty funny, too.
President:  Hey maybe we need an AstroClod makeover in our Medicaid program, Rudy.
Rudy:  I'd say go with something that works.  Don't try to fix something that's totally broken.  My little brother tried to fix his bike after it got run over by a pickup truck.  Man, that was a waste of effort.  He kept falling down and busting his head.  Dad finally bought him a new bike for Christmas and we threw that old piece of junk in the garbage can.
President:  Maybe your "Discount Coupon" idea could work.  I suppose we could just apply it to our existing Health insurance companies, and throw Medicaid in the garbage with your brother's bike.  The insurance companies are not perfect, but you know, overall they work pretty well.
Rudy:  Yeah.  My bike's not perfect, but I like it.  I wouldn't want to throw it away.
President:  Let's move on to question three…
(to be continued)
Disclaimer:  all stories in Bizarreville are fiction.
The President called a Health Care Summit conference at the White House with a select panel of 5th graders who had been contestants on the TV show "Are you smarter than a 5th grader?"  He did this after coming to the conclusion/realization that a handful of 5th graders were smarter than the entire body of Congress put together, could probably cut through the mumbo jumbo, and develop workable solutions to the health care issue.  The President asked 4 questions for the 5th Graders to deal with.  Little 5th grader Billy Smith responded to the President on the first question: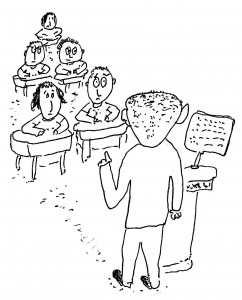 Q1. How can we cut the cost of Health Care?
Billy:  Mr. President, well, what's causing costs to go up so much, sir?
President:  Doctors are charging more and more for their services and procedures to help people get better, Billy.
Billy:  Well, why are they charging more and more?
President:  Because their costs keep going up.
Billy:  Why are their costs going up?
President:  Doctors say because Malpractice Insurance cost is rising so fast.
Billy:  What is Mel Crack Diss?
President:  Malpractice, Billy, is when people sue doctors because they think the doctor did something wrong when he was treating them.  They sue them for millions of dollars.  And they get the money because everyone figures it's just the insurance company that will be paying it.
Billy:  My doctor is a pretty smart man, and a real nice guy.  He's got 3 kids.  I don't think he would do anything wrong.
President:  You're right, Billy.  Almost all doctors are very good doctors and do the right thing.  It's extremely rare when a doctor is truly negligent.  But still, people keep suing and suing and getting lots of money for it, regardless if the doctor really did something wrong.
Billy:  That doesn't seem too fair.  If a doctor is trying hard and doing his best, he shouldn't be punished for that.  I know when I get punished for something like leaving the seat up, and I didn't do it, I get mad.
President:  Well, the doctor doesn't really get punished.  It's the insurance company that pays the tab.
Billy:  But didn't you say that the insurance company just goes ahead and charges the doctor more money?
President:  Well, yes…
Billy:  Why can't we stop people from getting lots and lots of money when the doctor didn't do anything wrong in the first place?
President:  Well, it's complicated.  We don't want to stop people from being able to sue a doctor when he really did something that was grossly negligent.
Billy:  I thought you said that was extremely rare?
President:  Ummm, I did…..I did say that…uh…let's see.  Well, it's like this…you see, the lawyers…ummm…the lawyers find out about these cases by hanging around hospitals a lot.  Now the lawyers are very nice people too, you see….ummmm…I tell you what, let's move on to the next question.
(to be continued)
Disclaimer:  All stories in Bizarreville are fiction, even the ones you would swear are real.
The Bizarreville TV Network is proud to be piloting a new TV series next week, called The Grumpler.  Modeled after the successful "The Bachelor" program, the new series will feature the grumpiest liberal congressman.  Casting will find one who is most upset about not not getting their statist/socialist government-control agenda passed…one who is genuinely ornery and about ready to go postal over the farting around in the Obamacare passage or other feet-dragging in government takeover of the economy.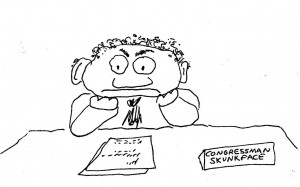 The TV series will then bring 25 hookers onto the show to find new, creative ways to cheer him up.  He will then start narrowing down the field, week by week.  But the secret to the show is that he will actually be looking for the contestant who aggravates him the most in her feeble attempt to change his surly mood.  Any pro who makes him smile or laugh, as unlikely as that seems, would most likely be ushered onto the nearest limo for her trip home.
Elmer Smudd, the Executive Producer, figures the hookers will catch on to the "secret" pretty quickly, and may soon do all they can do to piss him off.  Smudd thinks this transition will be hilarious to their target audience, comprised of men and women who think 99% of all TV programming is pure crap (pretty big target market as it turns out).  Obscenities are likely to be flying, but will all be bleeped out so as not to offend the kids who have never heard that kind of language before.
Rather than a traditional rose ceremony, the lib congressman will cut off the top of the rose and give the thorny stem to the lucky girls who will continue, and move on to next week's challenge.  He'll keep the top for himself.
Each week's show will feature new intriguing venues that are disgusting, revolting, reprehensible in their own right to help create the right mood.  Boring football games on cold rainy days, PBS pledge drive studios, Chuck E. Cheese, Mount Trashmore landfills, economic debriefing rooms, and book readings at book fairs will be among the chosen destinations.
The Winner will get to become the congressman's Top Aide until the congressman gets thrown out of office, either by election, by sheer incompetence, or by impeachment.  The losing hookers will not leave empty handed.  Each will be given a new wardrobe designed by Streetwise Sleaze of Hollywood, the leader in upscale trashiness, and a one year's supply of Tootsie Pops.
Smudd thinks the show will be a hit.  He looks forward to casting The Grumplette for next season's shows.
A special election is being held Tuesday in Massachusetts to fill Ted Kennedy's old Senate seat.  Conventional thinking had been that this would be a slam-dunk win for Martha Coakley, the Democrat, who would take over for the temporary appointee Democrat Paul Kirk.  But with recent public outcry regarding the socialist agenda being rammed-through in Washington, the Republican challenger Scott Brown has closed the gap, particularly among the Common Sense fringe element in Massachusetts.
The Dems had been panicking, but in their desperation, they believe they have devised a foolproof plan to keep the seat.  To show that they are in tune with the public and even a bit hip, the campaign committee announced that they have changed their campaign theme song to "Pants on the Ground".  The song, written by General Larry Platt and introduced to the world during the American Idol show last week, is almost certain to go platinum and win Grammies.  Dem strategists want to catch this wave early and use it to their immediate advantage.
The campaign musicologist tweaked some of the lyrics suggesting Republican Brown walks around with his pants on the ground, wears his hat sideways, and flashes his gold teeth.  Most voters know that none of it is true.  But the campaign is hoping for some sort of subliminal connection when the wavering voter is in the booth scratching his ass.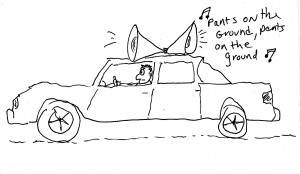 Dems plan to rent hundreds of large horn speakers that mount on top of cars, and will play their new theme continuously around towns and especially near polling places.  They have also asked all campaign workers to dress up in a Pants On The Ground costume theme on Election day, including inserting some fake gold teeth to complete the effect.
The Democratic campaign believes this will be enough to hold onto a thin victory on Tuesday, and avoid losing their fillibuster-proof majority that would undo Obamacare, for sure.
A Republican campaign spokesman was asked to comment, but he just shook his head and said, "Friggin' idiots…"
Disclaimer:  all stories in Bizarreville are fiction, even the ones that sound like they could be real.
Taking a page out of the Al Qaeda playbook, Democratic leaders were able to successfully convince several senators to suicide bomb their careers by voting Yes on the Health Care bill.  These were senators whose home state constituents were overwhelmingly opposed to the bill, and who initially indicated that they would vote against it.  But, by using proven Al Qaeda-type brainwashing techniques learned during interrogations at Gitmo, the Dem leadership persuaded them convert to their way of thinking, and got them to agree to be thrown under the bus, careerwise.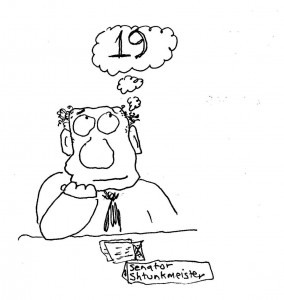 But it did not come without cost.  Each trans-voter was promised 19 virgins who will be at their beck and call in their senate afterlife.  At the senator's choice, they can be male, female, or a mix of both.  The virgins will be commissioned to satisfy any of the senators' wild fantasies, some of which are expected to be quite bizarre.   Requisions for pudding-like food substances, pogo sticks, cases of lard, and air horns are among the items that have surfaced thus far in the negotiating process.
Some other senators have raised objections to the virgin handouts scheme.  They have cited that they have been dependable/reliable voters, toeing the party line, but are not being given these kind of perqs.  In fact, they say they get very little supplemental recognition, complaining that leaders are taking them for granted, and their votes for granted, just because they have no independent thought.  Dem leaders have responded that there is no truth to the charge, and assures them that there will be 'severe repercussions' if they ever get out of line.  "I think that proves we don't take them for granted."
Leaders are, however, considering throwing a bone to the steady-eddie senators.  "Maybe we'll give them each a virgin or two to shut 'em up."
Meanwhile, the soon-to-be-ex-senators are starting to announce resignation plans before the 2010 election process commences.  Their new lame duck status will allow them to totally disengage from senate activities, be able to spend time designing and building their new virgin playrooms, and most importantly, load up on ED meds.
Disclaimer:  all stories in Bizarreville are fiction, even the ones that seem like they could be real.